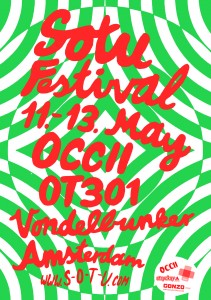 Plattegrond is proud to announce a collaboration with a fine selection of Amsterdam organizations to create an adventurous music program for new festival SOTU (Sound Of The Underground). The festival takes place from the 11th of May until the 13th of May 2012 and has the focus on alternative & independent music culture. With noise, indie pop, psychedelia, avant-garde, global bass, improv jazz and underground dance. The program for SOTU Festival is formed together with curators from these local organizations: Plattegrond, Hallo Gallo, Bomb Diggy, Club Lederhosen, Toztizok Zoundz, Schijnheilig, Lemon Community, Future Friday Features, Experimental YetZet, A/V Club, De Peper, Kinderpret, Wonderland, Subbacultcha! Tickets on sale from 21st. March. (Day ticket €10.-)
Firs acts announced:
Gay Anniversary (GR), Bazooka (GR), DJ Narain Ashaid (BD), U.S Girls (US), Lucky Dragons (US), Cute Heels (BE), Stel-R (BE), Hungry Soul (BE), Gum Takes Tooth (UK), Teen Radiation (NL), Dagora (NL), Martin Duvall (NL), Rivers Area Juke Squad (NL), Dead Neanderthals (NL), Plattegrond Noise Orkest (NL), see more on SOTU site.
SOTU Festival is supported by Gonzo Circus