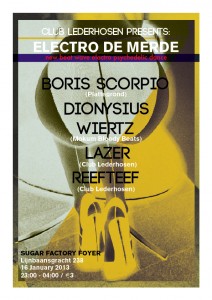 Club lederhosen Electro De Merde's edition is celebrating the glorious sounds from the new beat era with and some new wave and a dosis of psychedelic dance. Lets's rrrrrrock to the beat!
Boris Scorpio (NL) A.k.a Gameboys a Gogo who is usually armed with his gameboy gear or modular synthesizer, but this time he will be spinning his precious collection of 7-inch new beats.
Dionysius (NL) has been spinning electro and 80's music as a resident on parties such as Electronation, We love 80's [Paradiso], After 80s [Patronaat] and Inrichting [Silo/Kalenderpanden/OT301].
Wiertz (NL) & Lederhosen dj's Reefteef (NL) & Lazer (DE)
16 Jan / Sugar Factory Foyer / Lijnbaansgracht 238 /Amsterdam / 23:00 – 04:00 / €3.-